Since then, World Migratory Bird Day (WMBD) has been celebrated in increasing number of countries and has steadily grown in popularity each year. While the annual WMBD campaigns are prepared and coordinated centrally by the AEWA and CMS Secretariats, national authorities and NGOs worldwide, in particular BirdLife International and its partners, help to encourage individuals and organisations around the world to celebrate World Migratory Bird Day and to incorporate each year's theme into their awareness-raising programmes and festivals.
Through the help of thousands of committed individuals, organisations and government authorities - World Migratory Bird Day has turned into a truly global commemorative event, which helps turn the world's attention to the wonders of bird migration and the need for their conservation in a concentrated and global scale each year.
WMBD 2006
The first World migratory Bird Day took place on 8-9 April, 2006. At the time, migratory birds were receiving very negative media coverage as a result of them being falsely believed to be the main cause for the spread of Avian Influenza (H5N1) around the world. So the idea arose to use the first World Migratory Bird Day to counter some of the negative and often unbalanced publicity migratory birds were receiving at the peak of the Avian Influenza discussion. For this reason the theme of the first World Migratory Bird Day in 2006 became: "Migratory birds need our support now!". The center of the campaign was a launching event called WINGS which took place on the edge of the Great Rift Valley in Kenya and was hosted by Ms. Kuki Gallman, a famous writer and conservationist. Altogether, 68 other WMBD related events took place in all corners of the world to support the launch and the very first WMBD campaign.
WMBD 2007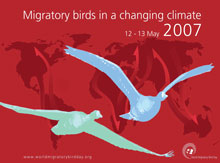 In 2007, World Migratory Bird Day was celebrated in more than 58 countries and with more than 100 different events all across the planet on 12-13 May. The central theme "Migratory birds in a changing climate" helped to focus the world's attention on the plight migratory birds are facing due to global warming. WMBD activities highlighted the effects that increasing temperatures, altered rainfall and vacillating weather conditions have on migratory birds.
WMBD 2008
Under the theme "Migratory Birds – Ambassadors for Biodiversity", World Migratory Bird Day (WMBD) was celebrated for the third time on 10-11 May 2008. Over 136 activities took place in 59 countries around the world to mark World Migratory Bird Day in 2008 and the events helped spread the idea of migratory birds as messengers for the conservation of biodiversity worldwide.