Selected Highlights for World Migratory Bird Day 2013!

Thank You for the Most Successful World Migratory Bird Day Ever!
A record 345 events in 86 countries registered on the WMBD website and each and every one of them represents a unique activity which brought people together around the world to celebrate and help raise awareness about migratory birds on 11-12 May 2013!
The CMS and AEWA Secretariats would like to thank all WMBD organizers and sponsors for supporting World Migratory Bird Day 2013 and making it the most successful World Migratory Bird Day yet! The positive impact you have made for the conservation of migratory birds through your WMBD events and activities is truly inspiring. Without the devoted work and passion from individuals and organizations such as you, World Migratory Bird Day would not be possible! We look forward to next year's World Migratory Bird Day on 10-11 May 2014 to celebrate again migratory birds and the need for their conservation, with you and the growing global WMBD community!
World Migratory Bird Day 2013 Highlights
We would like to share just a few of the many exceptional highlights of the 2013 World Migratory Bird Day Campaign including participating events, statements from partners, WMBD trailers and videos as well as the number of countries and languages the campaign has spread to this year.  
---
Statements to Mark World Migratory Bird Day 2013
Satements from key World Migratory Bird Day supporters and partners from around the world have been collected to share their unique perspective on the value of migratory bird conservation.
The Statements also show how this year's World Migratory Bird Day theme "Networking for migratory birds" relates to individual conservation efforts of different organisations around the world. [Visit the WMBD Statements Page]
"I fully support the global campaign to raise awareness about the threats to migratory birds from habitat destruction, overexploitation, pollution and climate change. I call for greater international efforts to restore and preserve migratory birds and the network of sites they need to survive as an important part of the environment on which we all depend."
- Mr. Ban Ki-moon, Secretary-General of the United Nations
---
World Migratory Bird Day 2013 Trailer - "Networking for migratory birds"
The two-minute animated video is inspired by this year's World Migratory Bird Day theme "Networking for migratory birds". The trailer aims to show the importance of ecological networks for the survival of migratory birds as well as to encourage the international community - governments, conservation organizations and dedicated individuals alike – to work together to conserve migratory birds around the world.
The World Migratory Bird Day Team would like to thank everyone involved in the production of this trailer, in particular Mr. Dirk Räppold (www.formvorrat.de) who dedicated his valuable time and creativity to developing the trailer. We would also like to acknowledge the contribution of our speaker Ms. Eleanor Waters, as well as Mr. Patrik Årberg for his recordings of crane sounds.
---
World Migratory Bird Day Video by Hansheng Siow 
Siow Hansheng is a 25 year old Product & Industrial Designer from Singapore, currently pursuing a Bachelor of Arts Degree with Honours in Communication Design at the Glasgow School of Art in Singapore. In course of his studies, Hansheng worked on a project about Binary Opposites and chose 'Residents and Tourists' as his topic. During his research, he came across migratory birds and their migration patterns and saw a strong connection between these species and humankind. Similar to a human transport system of harbors, airports and roads, which we rely on to complete our travels, migratory birds need an intact international network of stopover sites to fulfill their migration.
Hansheng's aim was to create a walk-in expedition at airports, explaining the amazing phenomenon of bird migration. Travelers would be able to learn about migratory birds, while waiting for their planes. In his video, Hansheng explains the content of his project and the motives behind it. We would like to thank Hansheng for this great contribution to World Migratory Bird Day 2013!
---
The World Migratory Bird Day Poster in 13 Languages
For the first time, the World Migratory Bird Day poster was translated into 13 languages (including all official UN languages) – Albanian, Arabic, Chinese, English, French, German, Greek, Malayalam, Polish, Portuguese, Russian, Spanish and Swahili. All WMBD Posters can be downloaded from the WMBD Press Page. [WMBD Press Page]






                                          UN Official Languages: English, Spanish, French, Arabic, Chinese, Russian 







                                   Other Languages: Albanian, Malayalam, Swahili, Polish, German, Greek, Portuguese
---
World Migratory Bird Day Celebrated in 86 Countries!
Algeria, Argentina, Australia, Austria, Azerbaijan, Bangladesh, Bolivia, Botswana, Brazil, Bulgaria, Burundi, Cambodia, Canada, Chile, China, Colombia, Costa Rica, Croatia, Cuba, Denmark, Ecuador, Egypt, Estonia, Ethiopia, Fiji, Finland, France, Germany, Ghana, Greece, Guatemala, Honduras, India, Indonesia, Ireland, Islamic Republic of Iran, Israel, Italy, Japan, Kenya, Kosovo (UN Resolution 1244), Kuwait, Lebanon, Liberia, Libya, Madagascar, Malaysia, Maldives, Malta, Mauritania, Mexico, Mongolia, Montenegro, Morocco, Nepal, New Zealand, Nicaragua, Niger, Nigeria, Oman, Pakistan, Paraguay, Peru, Poland, Portugal, Qatar, Republic of Korea, Romania, Russian Federation, Serbia, South Africa, Spain, Sri Lanka, Sudan, Sweden, Syrian Arab Republic, The United Kingdom of Great Britain and Northern Ireland, Thailand (Kingdom of), Trinidad and Tobago, Tunisia, Turkey, Ukraine, United Arab Emirates, United Republic of Tanzania, United States of America, Bolivarian Republic of Venezuela, Yemen. [
Visit the Full WMBD Global Event Map
]
This is just a small sample of the 345 World Migratory Bird Day 2013 Events in 86 countries.
For a complete list of WMBD events See the WMBD Event Map and Registered Event page
---
Kenya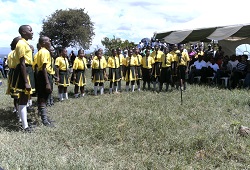 On 11 May 2013, a regional World Migratory Bird Day event was held in Kenya, the country where WMBD was first launched in 2006. The event took place at Lake Elementaita, which is a very important site for migratory birds. Activities included exhibitions, speeches by honored guests and various forms of entertainment, such as an acrobatic show. The event was also the occasion to launch Lake Elementaita as World Heritage Site and Wildlife Sanctuary. The event was hosted by the government of Kenya and the Kenya Wildlife Service (KWS), in collaboration with the African-Eurasian Migratory Waterbird Agreement (AEWA). The event was made possible in part through funding which AEWA received from the German Federal Ministry for the Environment, Nature Conservation and Nuclear Safety (BMU). The renowned writer, conservationist, CMS Abassador and Honorary Warden of KWS Ms. Kuki Gallmann attended the event as well.
Lake Elemetaita, part of the Kenya Lakes Systems (Elementaita, Nakuru, Bogoria) is a shallow alkaline lake lying on the floor of the Great Rift Valley at 1,776 m above sea level. The Kenya Lakes System property sustains 75% of the globally significant threatened population of the Near-threatened Lesser Flamingo (Phoeniconaias minor) and serves as stop-over, wintering and summering site for over 100 migratory bird species that use the Great Rift Valley flyway. The migratory birds originate from Europe and northern Asia as well as other parts of Africa. Lake Elementaita was designated as an Important Bird Area (IBA) in 1999 and as a Ramsar site in 2005. In 2011 it was inscribed by UNESCO as part of the Kenya Lakes System in the Great Rift Valley as a World Heritage Site. Read more about the event at:
---
Germany
For the first time, a charity concert was held to celebrate World Migratory Bird Day in Bonn, Germany. On Saturday, 11 May the opera choir Corale Lirica San Rocco from Bologna, Italy, sang a selection of works by Verdi in the Namen-Jesu-Church. Donations made at the concert were collected to support the conservation of the Grey Crowned Crane, an endangered species. The Grey Crowned Crane is an iconic African bird known for its beauty and grace. It is a highly sought-after bird by zoos and private collectors, causing a serious threat to the wild population as cranes are being taken in large numbers to be traded across the world.
[
Read More
] [Photos of the Concert] [Video of the Concert]
---
Canada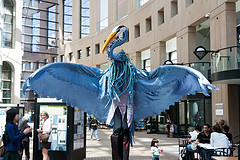 During the week of 6-12 May, the City of Vancouver, along with the Stanley Park Ecology Society, Bird Studies Canada, Nature Vancouver, Tourism Vancouver and other partners, recognized World Migratory Bird Day in a series of events held across the city. The City of Vancouver Park Board proclaimed World Migratory Bird Day, in a declaration signed by Mayor Gregor Robertson. The declaration recognized the better management of birds and their habitats through initiatives such as Vancouver's Greenest City 2020 Action Plan would benefit residents and over 407 bird species. 
[See Photos of Events in Vancouver] [WMBD Declaration by Mayor Robertson]      
Canadian Media Coverage on World Migratory Bird Day
[Television Interview from MétéoMédia - La Journée mondiale des oiseaux migrateurs 2013]
---
Mongolia
The Mongolian Ornithological Society and National University of Mongolia are proud to present two events for this year's World Migratory Bird Day celebration. Both events took place in Ulaanbaatar, where people had the chance to attend presentations or to take part in an exciting bird photograph competition. Migratory birds are an important part of the biodiversity of Mongolia. Of the country's 476 bird species, 391 of them are migratory.
---
Colombia
On May 11, the National University of Colombia will be hosting a World Migratory Bird event on campus, as well as at the Natural History Museum. The event is targeting children, youths and adults who are interesting in learning about the conservation of migratory birds. Activities include birdwatching, games for children and lectures about migration cycles and their importance for the survival of migratory birds. A visit to the Natural History Museum, where participants are introduced to an exhibition of Colombian mammals, insects, reptiles, fish and migratory birds is also on the programme. The creation of a giant map displaying birds in America will finish off the day.
---
United Arab Emirates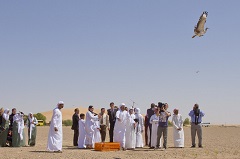 Conservation Seminars and Education Activitiestook place to mark World Migratory Bird Day in Dubai and Abu Dhabi, United Arab Emirates. In the Dubai, government officials, academic establishments and private sectors were invited to celebrate World Migratory Bird Day in form of a seminar. This event provided information about migratory birds and was organized by the Dubai Municipality. In Abu Dhabi, the International Fund for Houbara Conservation (IFHC), in partnership with the Abu Dhabi Education Council (ADEC), invited children from local schools to visit the Houbara conservation centre located in Sweihan - Abu Dhabi. As part of the visit programme they assisted in releasing captive-bred Houbaras into the wild and were shown a video about the migration of the Houbara by ecologists. [Photos of the Abu Dhabi Event]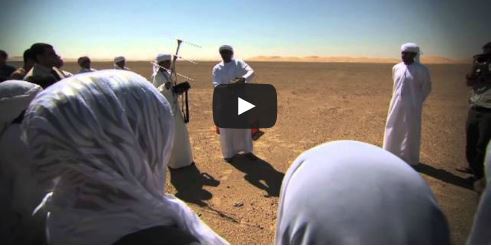 [Arabic and English Videos of the Abu Dhabi Event]
An online facebook competition organized by the Students for the Earth also took place in which people were asked to write about migratory bird conservation challenges and to suggest how to improve the conservation of one species in their region. [Visit Contest Page]
---
Republic of Korea
The beautiful, but Critically Endangered Spoon-billed Sandpiper is a shorebird that depends on tidal-flats in East Asia during its migration. During this year's World Migratory Bird Day celebration, the organization 'Birds Korea' is raising money for the production of a mini-documentary on Spoon-billed Sandpiper conservation. This is a joint project supported by Cornell University's Lab of Ornithology, New York. As many of Korea's long-distance migratory birds spend the summer in North America, the organization is also interested in intensifying their American conservation network to help protecting migratory birds.
[Read more about the event in the Republic of Korea]
---
See All the World Migratory Bird Day Event Photos on the WMBD Flickr Photostream! 
Visit the WMBD Flickr Photostream and See Photos From Around the World!
---
Share Your WMBD Event photos and Organization on the WMBD Flickr Photostream as Well!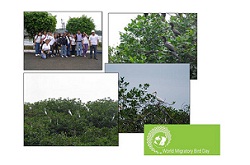 Learn How to Easily Add Your Event Photos Here