How you can participate in World Migratory Bird Day!
From the very beginning World Migratory Bird Day has been a tremendous success worldwide. Since 2006, the total number of registered WMBD events has enormously increased along with the number of countries in which WMBD celebrations have taken place. Over 900 registered events have celebrated WMBD in 118 different countries and territories around the world. Every single event was unique in its own way and as diverse and creative as the people and organisations involved.

WMBD activities take place in many different places, both indoors and outdoors. Schools, parks, town halls, education centres and nature reserves are all places where events have been hosted in the past. These can vary from birdwatching tours and educational workshops to dramas, festivals, exhibitions, painting competitions and other awareness-raising activities.
Events organised to mark World Migratory Bird Day usually are held on the second weekend of May. United by a common theme and campaign, WMBD events have taken place in all corners of the world and have involved and inspired thousands of people of all ages.
Get inspired by past WMBD events

---
To help you get some ideas for your own upcoming WMBD 2013 event, we have picked out a few great past WMBD events which we would like to share with you. While this is only a small selection from a long list of exciting events which have been registered on the WMBD website, we hope that these examples will inspire you to get involved in WMBD this year and help you plan your own unique WMBD event for the weekend of 11-12 May 2013.
Inspiring events from WMBD 2012

---
East Asian Austral-Asian Flyway Partnership (EAAFP): Mongolia, Australia, Singapore, Malaysia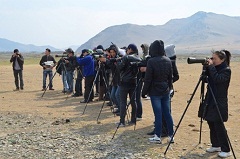 The Malaysian Nature Society (MNS) organized an event, World Wetlands Day (WWD) & World Migratory Bird Day (WMBD) 2012, in collaboration with Kampung Bako's Village Security and Development Committee on 11-12 February 2012 with support from the Ministry of Environment of Japan and BirdLife Asia Division.
[See the EAAFP Full Event Page]
---
100 Spotting Scopes at La Pointe de Grave, France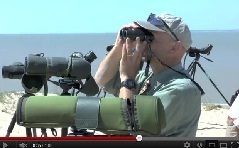 To celebrate the 100th anniversary of the French League for the Protection of Birds, the LPO Aquitaine organized a day of awareness and observation of migration on the migration study site La Pointe de Grave. Also in France at La Rochelle, WMBD was celebrated in conjunction with the 5th Meeting of the Parties (MOP5) of the African Eurasian Migratory Waterbird Agreement (AEWA) on 14 - 18 May 2012. The theme for MOP5 was "Migratory waterbirds and people – sharing wetlands" and set the conservation agenda for the next three years for AEWA and its 68 member states. AEWA covers 255 species of birds ecologically dependent on wetlands for at least part of their annual cycle.
---
City of Vancouver, Canada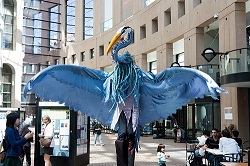 On May 12, 2012 the City, along with the Stanley Park Ecology Society, Bird Studies Canada, Nature Vancouver, Tourism Vancouver and other partners, recognized World Migratory Bird Day in a series of events held across the city. Only a year ago, in 2011, the City of Vancouver Park Board proclaimed World Migratory Bird Day, in a declaration signed by Mayor Gregor Robertson. The declaration recognizes the better management of birds and their habitats through initiatives such as Vancouver's Greenest City 2020 Action Plan which will benefit residents and over 407 bird species.
[See Photos of Events in Vancouver]       
[See News Stories about WMBD Events in Vancouver]
---
Proyecto "Festival Día de AVES Migratorias", Paraguay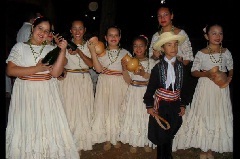 El Festival de Especies Migratorias del Paraguay celebra la increíble diversidad y belleza de los animales de nuestro planeta, destacando la importancia que tiene la migración de animales para las personas y sus diferentes culturas.  En el 2012, el Festival de Especies Migratorias del Paraguay tuvo como tema central Aves Migratorias y Gente", por eso nuestro mayor interés fue promover el estudio, respeto y conservación de estas magníficas criaturas entre los habitantes de la Ciudad de San Bernardino.
"Migratory Bird Day Festival", Paraguay
Paraguay's Migratory Species Festival celebrates the incredible beauty and diversity of the animals in our planet, this Festival also highlights the importance of animal migration for people and their different cultures. In 2012, the Festival's central theme was "Migratory Birds and People", for this reason our focus was to promote the study, respect and conservation of these remarkable creatures among the population of San Bernardino City.
[See the Full Event Report from "Festival Día de AVES Migratorias"]
---
Nature Kenya, Kenya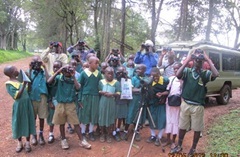 Nature Kenya works in all the 61 Important Bird Areas (IBAs) in the country. Eighteen of these have been considered to be of more critical concern based on the threats they face. WMBD celebrations were held at: Dakatcha Woodlands, Tana Delta, Taita Hills, Dunga Swamp, Yala Swamp, Mt Kenya, South Nandi, North Nandi and Kakamega Forest. The groups at these sites participated in bird watching, tree planting, conservation talks on resident and migratory birds, video shows on birds, drawing activities and in a football tournament that brought together the young and the old in the community.
[See Nature Kenya's Full Event Report]
---
BirdLife International's Migratory Soaring Birds Project, Middle East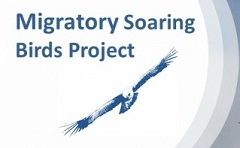 WMBD 2012 was celebrated in Sulaimaniya, Iraq in the context of the BirdLife Middle East Partnership Meeting. The meeting gathered the BirdLife Middle East family and provided the opportunity to discuss the BirdLife Strategy 2014-2020, brand evolution ideas and projects in the region including the 
Migratory Soaring Birds Project.
On the last day Nature Iraq, BirdLife's affiliate in Iraq, organized a field excursion for the participants to conclude the partnership meeting and celebrate birds and people.
[Read More about the Migratory Soaring Birds Project]
Other great past WMBD celebrations 
Armenia

For WMBD 2009 the Armenian Society for the Protection of Birds organised a presentation and a birdwatching trip for school children as well as a "bird migration role play", which helped to understand the barriers that birds have to face on their journeys. The National Museum of Nature in Yerevan launched WMBD 2009 with the WMBD trailer, a presentation of the "Barriers on migration" and a "Yes or No - quiz show". This presentation was broadcast on the two leading national TV channels.



Egypt
The Site Support Group for Lake Qarun Protected Area (Egypt) showed films about migratory birds and the threats they are facing to school children. Afterwards the children were invited to take part in a drawing competition and several prizes were given for the best drawings. The event's highlight was a trip along Lake Qarun, where the children were introduced to birdwatching.
Tunisia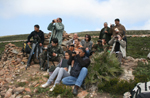 As in former years, WMBD activities were organised by the Association "Les Amis des Oiseaux" (AAO), the BirdLife Partner in Tunisia, from April to May 2010. The celebrations included a National Bird Migration Camp at the Important Bird Area (IBA) Jebel El Haouaria (also known as Jebel Sidi Abiod), drawing competitions for children, lectures, field trips to the Jebel Touati Nature Reserve in the Governorate of Kairouan (Central Tunisia) and many other awareness-raising activities.
Rwanda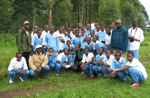 On 9 May 2010, the Dian Fossey Gorilla Fund International in collaboration with the Tropical Biology Association (TBA) organised a bird watching programme. As part of the event, KRC and TBA-Rwanda joined the Environment Club of Musanze High School, where more than 40 birders and enthusiasts gathered. The importance of birds in general and of migratory birds in particular was highlighted and what can be done for the protection of their habitats and the threats they are facing. Participants were then invited to take part in a two-hour bird-watching excursion during which 35 different species of birds were recorded – mainly flycatchers and sunbirds.
Pakistan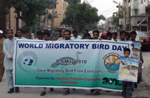 The topography and climate of Pakistan's province Baluchistan has a great attraction to migratory birds coming from the freezing Central Asian Republic and Siberia. Within this area the Nag Rakshan Valley provides the favorite food for the Houbara Bustard, which is one of the birds that migrate to Pakistan. Due to lack of other energy resources the plants are also used as firewood by local communities, which brought the Houbara Bustard close to extinction. On 8 May 2010 the Houbara Protection Organization (HPO) organised a walk to raise awareness among the communities of Nag Rakshan Valley and to force the protection of this rare bird.
Puerto Rico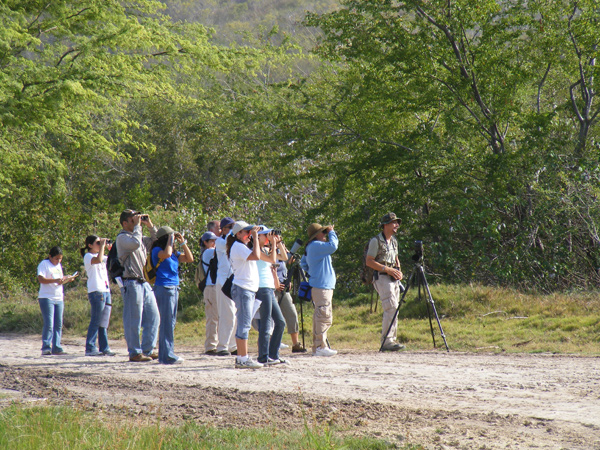 Since 2007, birdwatching and educational activities in Puerto Rico have been organized to celebrate World Migratory Bird Day. Visits to the Rio Abajo Forest, public and private school events and participation in the Caribbean Endemic Bird Festival have all helped to raise awareness about the threats migratory birds face. Organizers hoped to promote awareness about the subtropical humid forests and habitats for birds such as the Puerto Rican Parrot and a subspecies of the Broad-winged Hawk.
Argentina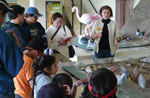 Every year since the first World Migratory Bird Day in 2006, activities such as media events, bird watching and educational classes have taken place across Argentina. For example, in 2009 bird watching and awareness-raising activities for schools were held through the Birds of Mendoza Program and the Argentine Institute for Arid Zone Research of Cricyt. South America is the destination for many migratory birds that breed in the Arctic and across North America. Argentina is also  home to many endangered migratory birds such as the Peregrine Falcon.
---

To become a part of this year's campaign, register your own activity for WMBD 2013 on this website! Celebrate migratory birds and raise awareness about this year's theme 'Networking for migratory birds'.
For more ideas for your own WMBD 2013 activity browse through the other globally registered WMBD events which took place in 2012, 2011, 2010, 2009, 2008, 2007 and 2006!